Nidra_06/02/2017


June 2, 2017




7:00 pm - 8:15 pm
Yoga Nidra with Gentle Sounds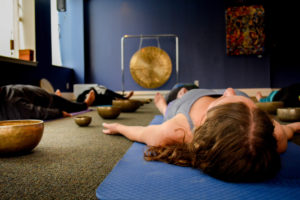 Join Loren Hardy and Conduit Musicians on Fri, June 2nd at 7:00pm, for an evening of Yoga Nidra and Sound Meditation.
Yoga Nidra is roughly translated as a "yogic sleep." In essence, it is a practice where you may set down all of the responsibilities, worries, and weight of your daily life, and deeply relax.
We will begin with a short asana session, moving through basic yoga poses to loosen the physical body before laying down in a comfortable resting pose. Loren will then talk you through a guided imagery meditation, helping you to relax your physical body. While remaining completely conscious of her voice, you will then be led into a dream-like state where the thinking mind is able to let go and surrender. Throughout the meditation, Jeff will offer gentle gong and tibetan bowl vibrations to assist in your journey of letting go.
At the end of this 75 minute practice, you will "wake-up" feeling refreshed, as if you have just awoken from a full, restful nights sleep. The benefits of this Nidra-Gong combination are endless, including, but certainly not limited to, body-mind relaxation, better breathing, a release of muscular tension, and a more clear stream of consciousness to more effectively live your daily life.
Not convinced? Check it out! No experience necessary.
This specialty class is only $25. Please click the following link to pre-pay and pre-register. Pre-registration is required as space is limited.
Please allow yourself enough time to arrive and set up before 7:00pm, as well as some time after to slowly reawaken from the meditation.
Price: 25.00
1227 Burnside Avenue #1
East Hartford, CT
Directions:
http://tinyurl.com/TheConduitCenter/
Contact The Conduit at 860-888-4314
or email info@theconduitcenter.com